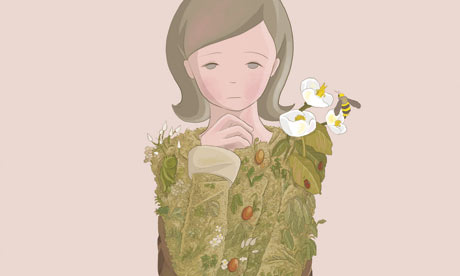 Another day another wonderful booklet of fairy tales, free today with The Observer and also available to read online
here
. Today's theme is 'Rags to Riches' and the contents really are a treat -
Angela Carter
's translation of
Perrault's
Cinderella
,
Naomi Lewis
's translation of Hans Christian Andersen's
The Tinderbox
, and
Philip Pullman
's retelling of
Mossycoat
- this one is especially exciting for me as the tale is one of my favourites and, to my knowledge, it is the first time it has been available in any form online. It was originally collected in
Lancashire
in 1915 by Katharine M Briggs and Ruth L Tongue from the gypsy,
Taimie
Boswell, for their book
Folktales of England
and is also currently available in that version in
Angela Carter's Book of Fairy Tales
(which combines the two, now out of print, Virago books of fairy tales).
Pullman's retelling is a bawdy good-humoured romp - a delight to read - my only small gripe is that he tries to justify
Mossycoat
taking advantage of the hawker by turning the hawker into a
snaggle
-toothed old man 'with lank hair combed over his greasy bald pate' who can't keep his hands to himself. I can understand why Pullman made the change but I always quite liked the fact
Mossycoat
wasn't your typical goody-goody heroine and took advantage of the hawker's love for her by taking her mother's advice to 'git what you can
out'n
him'.
There are beautiful illustrations throughout the booklet by
Heisuke
Kitazawa
and an
afterword by Philip Pullman
in which he looks at the influence of
Freud
and
Bettelheim
on our reading of fairy tales, talks about what makes a Cinderella story and discusses the craft of writing fairy tales;
'The hardest thing with a story of any kind is to bring it to a conclusion that works every time you read it. The best of the Grimm tales do that, and the ones that work best of all are clearly the work of some ancient and anonymous teller of genius, whose power of shape-creation has resisted generations of

hamfisted

clumsiness and mishandling.'
Tomorrow's booklet is Love and will include The Steadfast Tin Soldier, Rapunzel and The Little Mermaid with an afterword by
AS

Byatt
.
The illustration above is
Heisuke
Kitazawa
's
Mossycoat