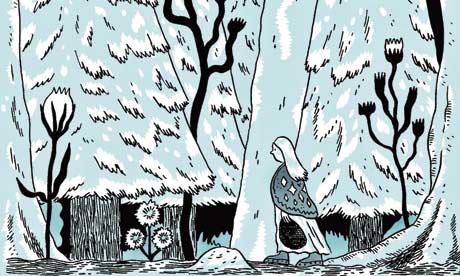 Today's theme is 'Quests and riddles' and the tales included in the booklet are
Rumpelstiltskin
, by the
Brothers Grimm
and translated by
Joyce Crick
;
The Sleeping Prince
, retold by
Alison

Lurie
;
The Tale of the Boy Who Set Out to Learn Fear
, by the Brothers Grimm and translated by Joyce Crick; and
The Lion and the Hare
, retold from Sanskrit by
Ramsay Wood
.
Today I was
particularly
looking forward to
The Sleeping Prince
as it's not a tale I've come across before. Digging around on the web I've not been able to find any other versions of it online and the only information I've been able to find about it is from its
Wikipedia

entry
which tells us it was collected by
Georgios
A.
Megas
and is included in Folktales of Greece (currently out of print, last published by
University of Chicago Press
in 1977). The tale is delightfully told and it is lovely to read an older story where the Princess rescues the Prince but I was disappointed that after she'd found him she didn't actually have to do anything but sit beside him - where was the kiss? Or if not a kiss at least she could have played some active part in waking him. Instead she sits and waits (for months) and when he is awoken by the bells on
St John's Eve
he seems to mistakenly think she had something to do with breaking the spell: "Whoever you may be, my life belongs to you," he said. "Will you marry me?"
Today's afterword
is by
Adam Phillips
, I
particularly
liked his comment that 'The protagonists of these stories don't want to endure or merely survive, they want to triumph. To put it as simply possible, each of the heroes and heroines of these tales really wants something, and is determined and persistent in their quest. They are not Hamlets, like us, bewitched by self-doubt and beset by complications.' Although he later asserts that 'if we read these
fairytales
as stories, as problem-solving exercises, for guidelines on how to deal with difficult situations, we are none the wiser. They give us examples of something, but there is very obviously no moral to the stories.' - I would have thought that the moral was that if you are determined and persistent then good things will happen!
An interesting post has also appeared on The Guardian Books Blog today:
Adult Content warning: beware fairy stories
. The warning may not have come early enough though as on the front of Saturday's paper the series was advertised as being 'a new seven-part series of booklets on the best children's stories ever told' and that day's booklet contained the especially gruesome
The Tale of the Juniper Tree
- I did wonder how many parents would have unwittingly begun to read the tale to their tots only to have to stop at the part where the little boy's head is boiled into a stew and unknowingly eaten by his father.
Today's lovely illustrations (including the one at the top of this post which is taken from The Sleeping Prince) are provided by Rui Tenreiro although I have to say that again the online edition does not do them justice.