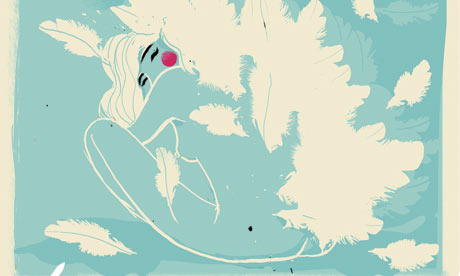 'Most of the fairytales we know best were first published in popular books for young children in the mid-19th-century, and many of the heroines of these stories don't do much but wait patiently for their prince to come, or for someone else to rescue them from dangers and enchantments. But it was a skewed sample: there are thousands of folktales in the wolrd with heroines who are smart, courageous and resourceful, like Clever Gretchen. Hans may be "a bit simple" but he also has great determination. Without realising it he sells his soul to the devil in order to become the best huntsman in the world and marry Gretchen. It is she who figures out how he can ask a question the devil cannot answer, and thus break the contract. Anyone who reads this story can learn two things: not to sign agreements with over-friendly strangers, and to follow the advice of wise women.'
So says
Alison Lurie
in
the afterword
to today's
Guardian
booklet 'Wisdom and Folly' and I thought it was a great place to start this post. Too often in the fairy tales we still tell today women are relegated to pathetic princess part or they are the villainess (where as villains such as
Bluebeard
and his English incarnation
Mr Fox
have been banished from the children's canon). So in today's booklet I'd particularly urge you to read two stories where the girls triumph,
Clever Gretchen
, and the tale of
The Black Geese
- which is a wonderful retelling of a Baba Yaga tale (for more on Baba Yaga tales see
SurLaLune's Baba Yaga page
- and yes Baba Yaga is a villainess but at least it's often a girl who beats her!).
I've really enjoyed Lurie's retellings and her afterword this week so I can't wait to pick up a copy of her book 'Clever Gretchen and Other Forgotten Folktales', first published in 1980 (I don't normally link directly to amazon from the blog but it's the only place I could find it so the link is
here
).
Other tales to enjoy from the booklet today are
Jack and the Beanstalk
, in the version by
Joseph Jacobs
, (and for more on Jack see my
recent profile of him
) and
The Mixed-Up Feet and the Silly Bridegroom
by
Isaac Bashevis Singer
, as retold by
Elizabeth Shub
.
The gorgeous illustrations are today provided by
Pietari Posti
, the one I've featured above is from
Clever Gretchen
.
Tomorrow's booklet is 'Justice and Punishment' and will include; The Red Shoes, Little Red Riding Hood, and The One-Handed Murderer.
Posts on
Part 1
,
Part 2
,
Part 3
and
Part 4
of the series.