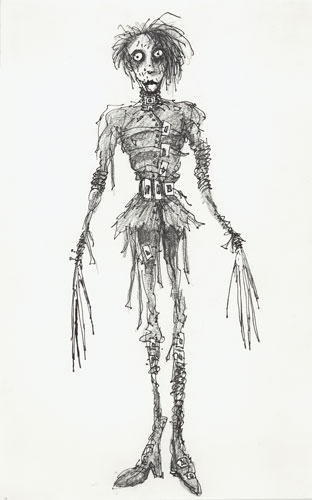 Couldn't resist posting about this!
A major Tim Burton retrospective
will be opening to the public at MoMA from November 22, 2009–April 26, 2010. From their
website
:
'This exhibition explores the full range of his creative work, tracing the current of his visual imagination from early childhood drawings through his mature work in film. It brings together over seven hundred examples of rarely or never-before-seen drawings, paintings, photographs, moving image works, concept art, storyboards, puppets, maquettes, costumes, and cinematic ephemera from such films as Edward Scissorhands, The Nightmare Before Christmas, Batman, Mars Attacks!, Ed Wood, and Beetlejuice, and from unrealized and little-known personal projects that reveal his talent as an artist, illustrator, photographer, and writer working in the spirit of Pop Surrealism.'
Visit the
MoMA blog
for behind the scenes info, and The Guardian
for a video
of the exhibition's opening (I love the bit where Helena Bonham Carter, talking about how mind-blowing it is that his work is being celebrated at MoMA, says, 'he's not even dead yet I mean most people are dead when they get celebrated').
You can also see a preview of works from the exhibition on the Guardian website
here
. And the
full MoMA website
for the exhibition will be available from the 22nd (it's in preview mode at the moment but still well worth exploring!).
Addition to original post
: Just found this too!